The 2018 Chrysler 300 near Opelousas, LA has an upsized exterior and a matching attitude, which makes it a standout in the sedan segment. Its extroverted styling is made even more conspicuous by optional appearance packages and a 300S trim that includes smoked headlights, blacked-out wheels, and a performance suspension. However, those who want a more luxurious look will find what they're looking for in the 300C and Limited models. Despite its aging interior, the 300 is chock-full of active safety and infotainment features that are sure to please even the pickiest buyer. Read on to learn more about the new Chrysler 300.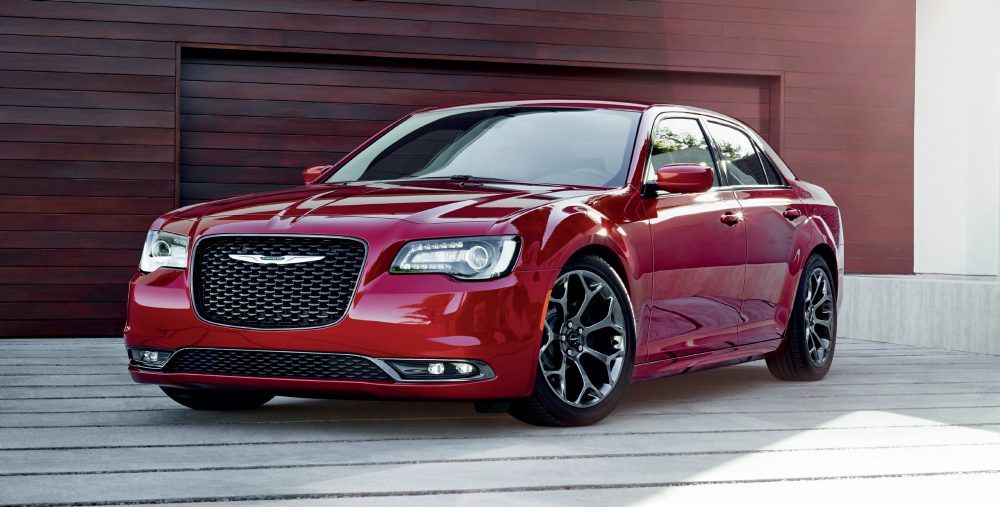 New Additions for 2018
For 2018, Chrysler has retooled the 300's lineup to align it with the Pacifica minivan, the brand's second line. Last model year, there were Limited, 300S, 300C, 300S Alloy, and 300C Platinum trims. However, this year, buyers can choose from the Touring, Touring L, 300S, 300C, and Limited models. The Touring model is the entry-level option, and as such, it comes with cloth upholstery and 17" wheels. Chrome Appearance and Sport Appearance packages are available on the Touring trim.
The sportier 300S model is now available with an Alloy package, which brings bronze-colored exterior trim and 20" wheels; an upgraded Beats audio system is available. Limited models now come with 20" wheels, and they as well as the 300C can be bought with mocha leather upholstery. 300Cs now come standard with 5.7L Hemi V8 engines, as well as two new color options: Ocean Blue and Green.
Efficiency
With a 3.6L V6 under the hood, the 2018 Chrysler 300 competes with its segment rivals as far as fuel efficiency is concerned. However, if a buyer orders the beefy 5.7L V8, they can expect to fill up more often. The engine choices are the same as last year, and fuel economy (both real-world figures and EPA estimates) are largely unchanged from last year's numbers.
Interior
With its numerous luxury features, the 2018 300 presents a strong value proposition for budget-conscious buyers. As one would expect, higher trim levels come with even more luxurious touches. Although some may see the 300's interior as being a bit dated, it's stylish enough for most buyers.
Exterior
The 2018 Chrysler 300 near Opelousas, LA is no shrinking violet, as evidenced by its big, bold, outspoken design. With its brash, aggressive styling cues, the 300 delivers style in an otherwise bland, boring segment. However, much of the 300's panache is to be expected, as the car shares most of its mechanical underpinnings with the nimble, stylish Dodge Charger.
If a buyer opts for the base or Touring model, they can select from two all-new appearance packages. The Sport package brings 20" wheels, as well as a blacked-out grille frame and headlight rings. The Chrome package takes things in the other direction by including polished 20" wheels and plenty of chrome exterior trim.
Driver Assistance and Safety Features
As of the time of this writing, we weren't able to get the 2018 Chrysler 300's crash test ratings. However, because many things are carried over from last year, buyers can expect similar safety ratings and optional safety features found in last year's models. The automaker offers active safety features on all models except for the Touring edition, in the form of a SafetyTec Plus option package.
Storage and Cargo Space
The 300 has one of the biggest trunks in its segment, and while its capacity is merely average, the roomy back seat offers additional cargo space. Almost all cars in the class can carry six or more carry-ons inside the trunk, but the 300's roomy interior allows users to more than double that capacity as long as the rear seats are folded. While the seats are split in a 60/40 configuration, they don't fold entirely flat.
Transmission and Engine
The 2018 Chrysler 300 near Opelousas, LA, along with its sibling, the Charger, are unique in the large sedan segment because of their optional V8 engines and rear-wheel drive layouts. All-wheel drive is an option, but it can only be had on models equipped with the 3.6L V6 engine. Both the V6 and the V8 are the same as last year, which means their power and efficiency will remain the same as well. The top-tier model, the 300C, is no longer available with the V6 engine.
Infotainment and Technology
The 300's infotainment setup is intuitively designed. With fast responses and a full range of connectivity features, the 300 is a very easy vehicle to use and live with. The on-board Wi-Fi is great for streaming Spotify and podcasts on long road trips, but it is now an option, where it wasn't available at all last year. Sporty 300S models are now available with 552-watt, ten-speaker Beats audio systems, while 300Cs and Limited models have an optional Harman Kardon setup.
Driving and Performance Impressions
Its unique rear-wheel drive design and optional Hemi V8 give the Chrysler 300 some serious performance chops that aren't found in any of its segment rivals. The vehicle's handling is shockingly confident given its weight and size, but the sporty 300S may be a bit much for some drivers' tastes. There are no major updates to the 300's mechanical components (its suspension, engines, wheels, brakes, or transmission) for this year.
Acceleration
While the V6 isn't the fastest vehicle in the class, it feels entirely different in road testing. The smaller engine has enough pull for confident, easy highway merging, and it emits an understated burble at idle. When drivers want a quicker option, the Hemi V8 is sure to please. The bigger engine puts out 363hp, and it has a 0-60 time that's a full second faster than that of the V6. The eight-speed auto gearbox offers subtle, quick shifts while in Normal mode, but Sport mode offers more precise shifts, increases throttle response, and firms up the steering.
If a driver wants all-American power, a roomy interior, and aggressive styling, the 2018 Chrysler 300 is the right choice. Stop by one of our Chrysler dealerships near Opelousas, LA for a test drive, or call us at (318) 717-1107 for full details.