The 2019 RAM 1500 near Alexandria, LA shows how the line has evolved. While it's conservative in some respects, it's wildly progressive in others. This all-new truck comes with a lengthy list of options in a wide range of configurations, and here, we'll tell our customers all about it.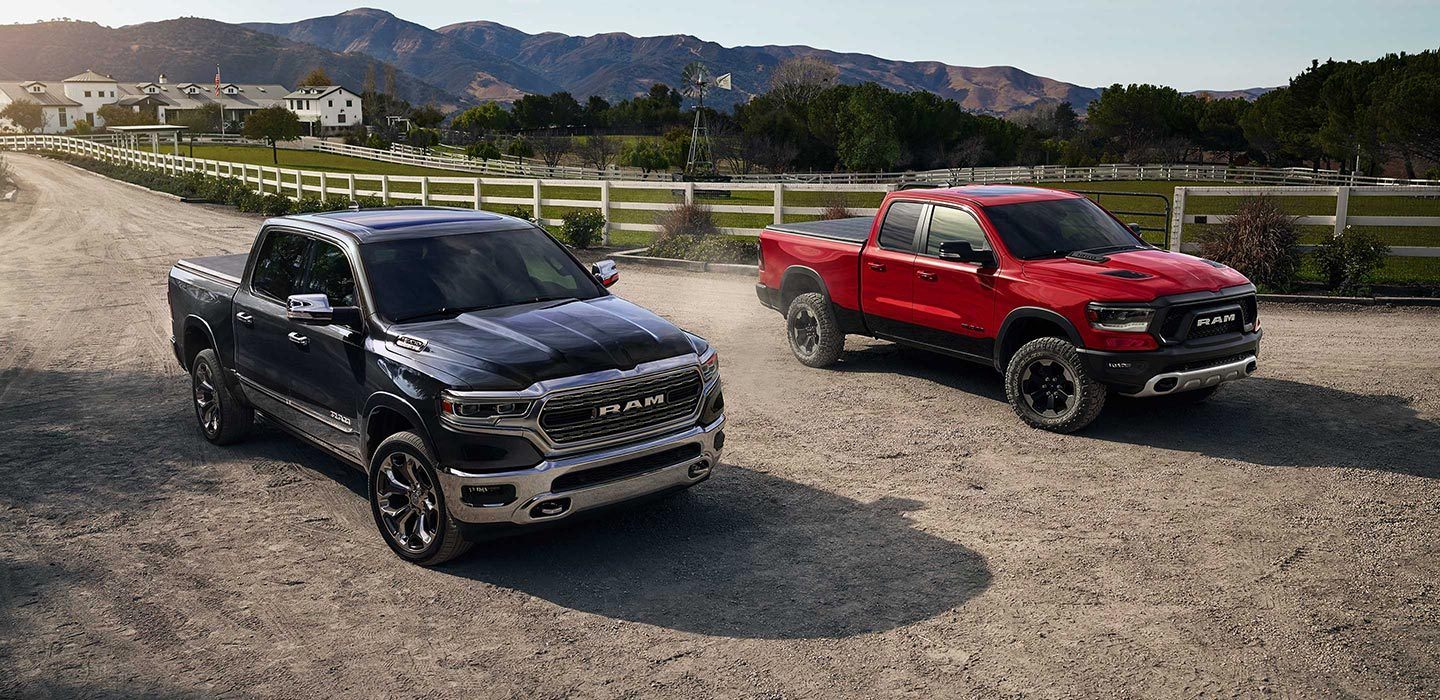 Putting Its Best Face Forward
For many buyers, the face of the new RAM represents a notable change, as it shifts away from the traditional Dodge "crosshair" grille shape. Now, the grille has a broad RAM nameplate, and there are varying amounts of chrome detail depending on the trim level selected. The off-road-centric RAM Rebel is the only entry in the lineup that has kept the previous grille, as well as the RAM lettering on the tailgate, although the latter now comes in a smaller size.
Better Aerodynamics
The 2019 RAM's aerodynamics are markedly improved over the previous generation. The aerial antenna has been removed, and automatic shutters have been added behind the truck's grille. Furthermore, there's an air dam that automatically lowers 2.5 inches at highway speed, eliminating the unattractive black plastic chin spoilers commonly found on other trucks. The truck's bed sides are 1.5 inches higher than in the previous model, which not only improves aerodynamics, it adds more cargo capacity.
A Peek Under the Hood
Although the exterior changes are worthy of discussion, under the hood is where buyers will see how the RAM can be progressive and conservative at the same time. The 3.6L V6 and 5.7L V8 Hemi engines carry over from last year, while the eight-speed auto transmission is almost the same, except for its shift mapping.
As for the V6, it's now linked to an electric assist setup known as eTorque. This system offers a torque boost during acceleration and smooths power delivery between the gears. The eTorque system is also available on V8 models, where fuel economy is supplemented by an upgraded cylinder deactivation system.
Suspension
The new RAM has a five-link coil spring rear suspension that's a vast improvement over the solid rear axle and leaf springs found in previous models. For this year, a stiffened stabilizer bar and coil-over shocks improve handling, as do upgrades to the electronic power steering system. The optional air suspension returns for this year, making it easier to load cargo and clear obstacles.
Cargo Capacity
The 2019 RAM 1500 near Alexandria, LA has a payload of 2300 pounds, and its maximum towing capacity goes up to 12,750 when equipped with the all-new Max Tow package, the V8 with eTorque, quad cab, and two-wheel drive. With the all-new blind spot monitoring system and its 34-foot range, it's easier to change lanes while towing. Off-road enthusiasts will like the crew and quad cab Rebels, which now come with a standard steel or optional air suspension. Other additions include an electronic locking differential, a one-inch factory lift, Bilstein shocks, off-road tires, under-body protection, and upgraded suspension. While this equipment is available on all trims, only Rebels get special styling and interior touches. Finally, as in previous models, there are on-demand and part-time four-wheel drive systems, as well as selectable low and high gears.
An Upgraded and Evolved Interior
The new RAM trucks build on their predecessors' cabin design and quality, adding features, making functional improvements, and providing increased style differentiation between the trim levels. As far as trims are concerned, each comes with a distinct color scheme, trim type, and digital gauge cluster font.
The biggest functional improvements are seen in the newly redesigned center console. It's big enough to hold a full-size laptop, sliding trays offer different storage configurations, and the dedicated smartphone holder has an available wireless charging upgrade. There's no shortage of wired charging, either; all RAM models come with five USB ports, some of which are quick-charging. Backseat passengers will greatly appreciate the optional sunroof, Wi-Fi connectivity, and built-in tablet stand. For those who prefer the six-passenger configuration, the front bench seat is back. However, the middle seat back is taller, which is great for safety and passenger comfort.
Tech and Luxury Touches
No matter which configuration a buyer chooses, the RAM's center control stack now comes with upgraded button quality, an adjustable bank of toggle switches, and a better version of the Chrysler touchscreen interface. On most trim levels, buyers will find an 8.4-inch touchscreen interface, which includes Android Auto and Apple CarPlay smartphone integration. However, the RAM-exclusive, vertically-oriented screen found on top-tier trims will wow passengers, while its accompanying physical buttons allow drivers to control and access functions easily.
In terms of passenger room, the RAM's crew cab is four inches longer this year. Along with the optional reclining back seat and available ventilation and heating, it makes for limo-like back seat passenger comfort. No matter which cab design a buyer chooses, their driving position is substantially improved with the addition of telescoping steering and center-stack controls that have been slightly shifted to the rear. Finally, RAM models come with accident avoidance technology, which was notably absent on last year's models.
It's Worth Waiting For
The 2019 RAM near Alexandria, LA is best thought of as a great sequel to a successful movie. It builds on the features that worked before, and it adds new features and capabilities that make the finished product more compelling. These new visual and functional elements help RAM to stand out from its similar-looking competitors while giving buyers the design and customization options they want. We like the RAM, and we think our customers will, too. We invite drivers to come and see for themselves everything the RAM has to offer.
Come on Down Today
The 2019 RAM is luxurious enough for road trips, but rugged enough for workday use. Its interior is comfortable enough for even the most discriminating passengers, and its towing capacity will delight the weekend warriors among us. Come to one of our RAM dealerships near Alexandria, LA to see the inventory and take a test drive or call us at (318) 717-1107 to find out more about the all-new RAM.